Langley in the Community
Peninsula Metropolitan YMCA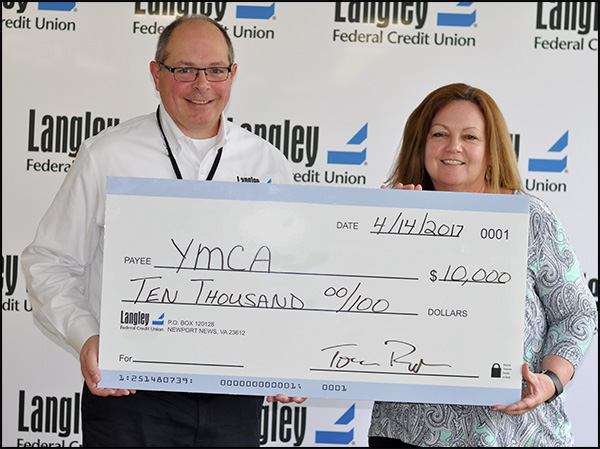 Langley VP of Marketing Fred Hagerman and YMCA Director of Association Advancement Leslie Bryant.
The Peninsula Metropolitan YMCA received $10,000 from Langley for support of their Summer Learning Loss Prevention initiative and Bright Beginnings back to school event. The donation will help provide scholarships for 100 children to attend a 10 week day camp and participate in the YMCA's Bright Beginnings back to school event at the end of the summer.
The Summer Learning Loss Prevention Initiative is designed to weave reading and STEM (Science, Technology, Engineering and Math) together with fun activities in a seamless manner so that campers will work on improving their academic. The goal of this initiative is to ensure that children are entering back to school with the confidence to take on new challenges, the social skills to function productively in large groups, and develop an excitement for learning.
Leslie BryantYMCA Director of Association Advancement
Downtown Hampton Child Development Center (DHCDC)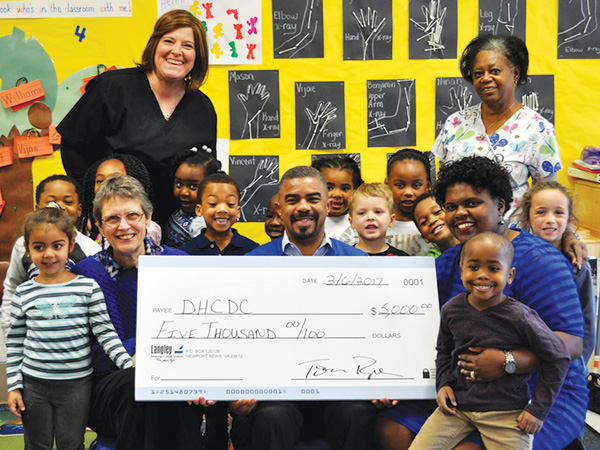 Langley presented $5,000 to DHCDC for support of their child care programs that provide a safe learning environment for children ages 6 weeks to 5 years.
Image: DHCDC Executive Director Heather Livingston with Langley AVP of Corporate Relations Gary Hunter pose with a class at the Center.
Big Brothers Big Sisters of the Greater Virginia Peninsula (BBBSGVP)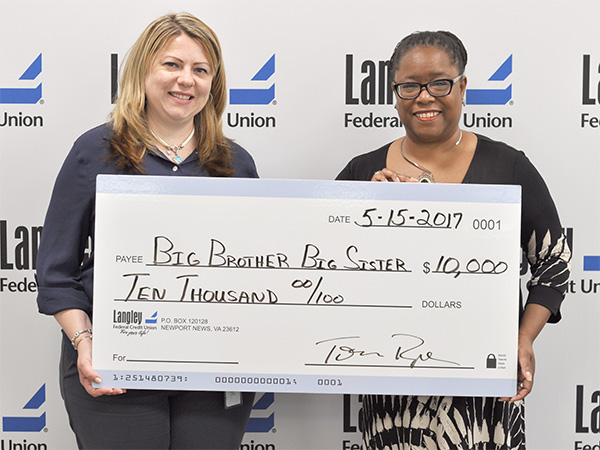 Langley VP of Commercial Lending Natasha Merz (L) poses with BBBSGVP CEO Ayanna King (R)
Langley donated $10,000 to Big Brothers Big Sisters of the Greater Virginia Peninsula (BBBSGVP) for support of their youth mentoring programs. The organization provides positive role models for children to identify with and emulate, which then encourages them to do better socially and in school.
The success of our programs depend on the support received by our community partners such as Langley. Based on our annual evaluations, 94% of our youth have improved their social-emotional competence by having a mentor in their life, 98% have avoided risky behavior and 85% have improved their educational success.
Children's Hospital of the King's Daughters (CHKD)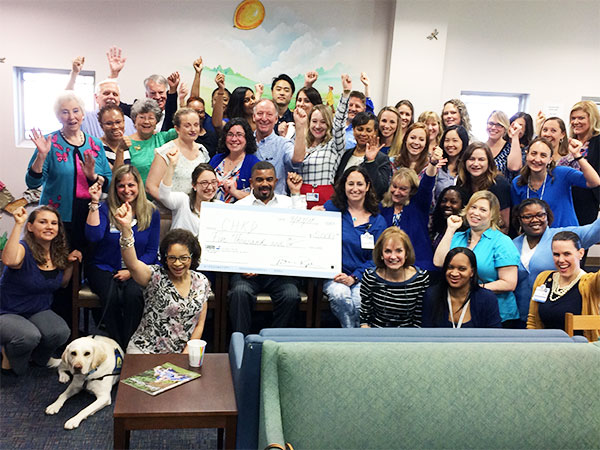 Langley AVP of Corporate Relations Gary Hunter poses with the CHKD child abuse program team.
Langley donated $5,000 to support the child abuse program at CHKD. The program provides assessment and treatment services for children throughout greater Hampton Roads and outlying areas who are suspected of being abused or neglected. CHKD's child abuse program is nationally respected in the field of child abuse identification and treatment, and is one of the first in the nation accredited to train pediatricians to specialize in child abuse.
The donation from Langley will help the CHKD child abuse program continue to provide services to some of the most fragile and vulnerable children throughout our community – those who are abused and neglected.
Karen GershmanCHKD Executive Director of Development
Langley for Families Foundation - Community Focus
Transitions Family Violence Services
Langley for Families Foundation donated $10,000 to Transitions at their 40 Years of Service Celebration. The funds will be used to provide emergency shelter, services and programs for victims of domestic violence in Hampton, Newport News, Poquoson and York County.
NATASHA House
Pictured left-right are Langley VP of Marketing Fred Hagerman, NATASHA House Executive Director Karen Brown and Langley VP of Collections Jose Iregui.
Langley for Families Foundation presented a $2,500 check to NATASHA House, Inc. The organization provides a safe place for women and children, allowing them to rebuild productive, thriving lives as they transition to permanent housing.
The letters "NATASHA" stand for "New Alternative Toward A Secure Home Atmosphere." NATASHA House is the only transitional home for women on the Peninsula. The home has five independent residence units with one of the units reserved for a homeless female veteran. A volunteer staff member is on duty 24-hours a day and maintains a secure entrance which provides a safe harbor for the women and children.
"NATASHA House welcomes and appreciates the Langley for Families Foundation's support in helping us continue being a "Bridge 2 Wholeness," stated NATASHA House Executive Director Karen Brown. "We strive to empower homeless women and their families, and at-risk children with the necessary tools to achieve and maintain self-sufficiency. Our work is grounded in the belief that women and children need the safety, security, accountability, and permanency of a home to develop, heal, and to achieve lifelong success."

-Karen Brown, NATASHA House Executive Director
Making an Educated Student Loan Decision
A college education can open doors to job opportunities, but it also comes with a hefty price tag. As a parent, you want your child to have access to the best college education possible but don't want them to be saddled with loads of debt upon graduation.
When you have exhausted all other sources of financial aid such as scholarships, grants, and federal loans, Langley can help. Our Student Loan provides your family a better way to pay for college with your best interests in mind. Langley offers lower rates, flexible repayment options, and educational support to help your student make wise financial decisions – now and in the future. To learn more, please visit langleyfcu.studentchoice.org
.
Five Local "Staycation" Activities
If traveling to a resort isn't in your vacation plan this summer, take a "staycation" and unwind within (or just outside) your own four walls. Relax and enjoy with these 5 fun ideas:
Visit a nearby amusement park.

While Disney World may not be in the cards this year, that doesn't mean you can't still have a blast locally at Busch Gardens, Water Country or King's Dominion.

Visit a zoo, aquarium or museum.

We have lots of choices― the Children's Museum of Virginia, The Virginia Zoo, The Virginia Aquarium, Virginia Living Museum, The Mariners' Museum, and Colonial Williamsburg - just to name a few.

Enjoy a ball game.

While major league events are a lot of fun, they can get pricey. The Norfolk Tides and Peninsula Pilots are two baseball teams that can give you a fun night at the park for a fraction of the price!

Go bowling.

There are a number of bowling alleys on the Peninsula and Southside such as Sparetimes, CineBistro, and AMF.

Camp in your own backyard.

Set up a tent and sleeping bags, build a fire (or use the grill) to cook s'mores, and take turns telling ghost stories.
Langley Board Elected During 81st Annual Meeting
Langley elected William E. "Gene" Griffith, Jr., Edward G. "Ted" Henifin & Nhu Q. Yeargin to the Board of Directors during the 81st Annual Meeting on April 20th. Gene has been a board member since 2008 and currently serves as Chairman of the Policy & Governance Committee. He served as Board Chairman 2013-2015. Ted has been a member of the board since 2014 and currently serves as Board Secretary and on the Nominating and Policy & Governance Committees. Nhu served as a volunteer candidate and currently serves on the Nominating & Policy and Governance Committees.
Langley Board Chairman R. Lester Wingrove recognized Richard Biege as he retires from the board this year. Rich began serving as a director in March of 2002 and has faithfully given his time and effort to the organization. He is a past Chairman and has served on numerous committees. We thank Rich for his dedication & loyalty!
Photo: (Standing L-R) Peter A. Morley, CMSgt. USAF-Ret.; Nhu Q. Yeargin; Edward G. "Ted" Henifin; Debra A. Flores; William E. "Gene" Griffith, Jr. (Seated L-R) R. Lester Wingrove, Jr., Chairman; Bruce R. Hoogstraten, Vice Chairman
College Scholarships
Langley presented four college bound young members with the Jean M. Yokum College Scholarship award for academic achievement. The four winners each received $5,000 to the college of their choice. This year's winners are Alyssa Costello, Corbin Hawk, Christine Kemmerly and Christine Siu.
Photo: (L-R) Alyssa Costello, Christine Kemmerly, Corbin Hawk, and Christine Siu received the 2017 Jean M. Yokum College Scholarship.
It's Always Sunny in Sandbridge
The Grand Opening for Langley's newest Southside branch was held in May. DJ Coop from 97 Eagle made a few Langley members very happy with $50 gift cards.
If you have not been to the new branch, stop by our Sandbridge location soon and meet the team at 2090 Princess Anne Road, Unit 140 in Virginia Beach.
Photo: Regional Manager Felicia Johnson and Sandbridge staff pose for pictures with 97 Eagle DJ Coop and his crew.
Check Out Our New Checking Features
Langley Free Checking Accounts come with a ton of great benefits. NO minimum balance, NO monthly service charge, early payday deposit and now we've added two more features that make Langley Checking irresistible.
With ClickSWITCH You're Just One Click Away!
We recognized how overwhelming it can be to switch financial institutions, especially when you have automatic payments that are debited from your account. ClickSWITCH gives you the ability to transfer instantly and securely for a smooth and speedy transition to your Langley account. Best of all it's free!
Spend 'n' Save Program
For some members it can be difficult to simply start a savings program. For those who use their Debit cards, this new tool, Spend 'n' Save, will make it easy! Every Debit Card purchase is rounded up to the nearest dollar, automatically transferring that amount to your Savings account. Essentially, the more you spend, the more you save.
Take advantage of these great added features and open a Langley Checking account today!
Keep Your Eye On The Prize
And YOU could win $1,000*!
There's still six more months to take the Langley Saves Challenge. Start today and build your financial future with this unique savings program. When you open a Langley Saves Account you will earn 1.61% APY* up to the first $1,000 saved. Where else can you find excellent dividends like that? Plus, you will automatically be entered to win an extra $1,000 if you have at least $1,000 saved by December 31, 2017*.
Langley makes it easy for Savers to set a regular monthly savings goal. It's not too late to start saving and be entered to win another $1,000.
What are you waiting for? Take the Langley Saves challenge today!
*Annual Percentage Yield. Balance of $1,000 must be in account as of 12/31/17.
Move Your Money Market Account To Langley And Start Earning More!
Looking for a better rate of return? Langley has the answer! Our Money Market account combines high dividend rates with ease of withdrawal, meaning that your funds are accessible at any time. All you need is an initial deposit of $100. Plus, Money Market accounts pay tiered dividends so the higher your balance the more you earn.
The chart to the right illustrates how much more a Langley Money Market pays than the banks. Up to 15 times more! Plus, an unlimited number of deposits may be made.
Move your Money Market Account to Langley today and start earning more!
What Can I Do With A Fixed-Rate Home Equity Line of Credit?
*The Annual Percentage Rates (APRs) are fixed rates with a LTV of 100%, and will not increase during the life of the loan. Rates and terms are subject to change without notice. Available to members with a credit score of 600 or better depending on credit qualifications. Credit is subject to approval. Some restrictions may apply. Property insurance, and if applicable, fl ood insurance is required. Possible tax advantages, consult your tax advisor.
With rising interest rates, what could be better than a fixed-rate Home Equity Line of Credit (HELOC)? Lock in the amount at a fixed rate and you won't need to worry about rising interest rates. Then you can take the time you need to select the right contractors for your home improvements.
And, Langley's HELOCs give you payment flexibility for any size project-offering 7, 12, or 17 year terms with fantastic rates.
Here are four home remodel projects from small to large that can improve the resale value of your home.
Replace the front door

- People can make snap judgements based on first impressions. Upgrading an old, poorly fitting front door with a newer energy efficient model is a quick project that can instantly improve your home's efficiency and aesthetic appeal. Best of all, hanging a door can be done in an afternoon, and has a return on investment of 98%.

Wooden decks

- Outdoor living space is currently enjoying renewed popularity. Where else can a family sit and watch the kids play in the yard while tending the grill on a beautiful wooden deck? The average cost of a new deck, based upon a 16 foot by 20 foot wooden deck, is $10,000. The average return on investment is just over 80%. Decks are a great way to increase the play space for a modest cost.

Minor kitchen remodels

- If you're really not happy with your kitchen, it might be time for a new one, and a home equity loan can make it a reality. You may not need more than a few minor kitchen upgrades, like new cabinets, counter-tops, and energy-efficient cook-tops, which are comparatively inexpensive. The average spend here is just under $20,000 with an estimated return on investment at an impressive 80%.

Convert attic space into a bedroom

– Although steeper in price, turning attic space into a spare bedroom or office, complete with its own bathroom, can be done for just over $50,000. That includes constructing a room, extending utilities to it and adjusting the exterior of the house to accommodate the new space. This remodel provides a 77% return on investment in resale value, with the potential for more. If you have adult children or relatives visiting from out of town, an attic room can be a wonderful guest room. You could also rent it out for additional income!
When you're making improvements to your home, you're not just making your life better in the short term. You're also making an investment in your future. Ideally, the increase in the value of your home will exceed the cost of the improvement. Simplify your life with a Langley Home Equity Line of Credit today!
Open the Door to Homeownership With a Langley VA Home Loan
Langley offers VA Home Loans to active duty service members, veterans and reservists. The VA Loan program is a great option, requiring no down payment or private mortgage insurance, and competitive rates and terms.
Langley makes the VA loan experience easier by processing everything locally, in-house! Now Langley can process, underwrite and close your VA loan right here. Plus, after you close, you will be making your loan payment to Langley throughout the life of your VA mortgage. This means you can now send your VA loan payments directly to Langley through traditional check, automatic payments, or at any of our local branches. It's another way we are making our VA mortgage experience even better for our military and veterans!
Langley member discount at CNU's Ferguson Center for the Arts!
Of the many benefits Langley members already enjoy, you can add one more – Langley member special ticket discounts to select performances at the Ferguson Center during the 2017-18 season. Beginning this fall, members will have the opportunity to purchase tickets with priority seating at a discount - as much as 20% for some shows. Stay tuned for specific show information coming in September!