Outreach
As a credit union, part of Langley's mission involves continued support for a variety of charitable causes within the communities where we do business. Last year, Langley invested over $400,000 back in the community.
Hampton Roads Community Action Program (HRCAP)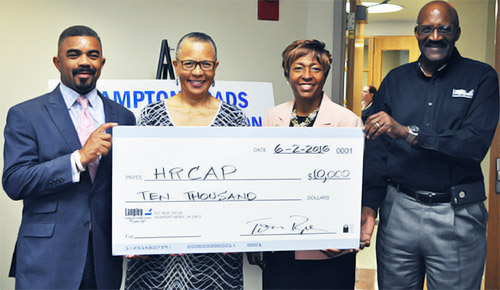 Langley presented a $10,000 check to Hampton Roads Community Action Program (HRCAP) for support of their programs and services that foster self-sufficiency through educational, social and economic development. HRCAP has served the cities of Hampton and Newport News for over 40 years, and the cities of Norfolk, Chesapeake and Portsmouth since 2012. For more information visit http://www.ohainc.org.
Photo: Langley AVP of Corporate Relations Gary Hunter, HRCAP Chairperson Angela Futrell, Executive Director Edith White and Langley VP/CIO Frank Williams.
Mariners' Museum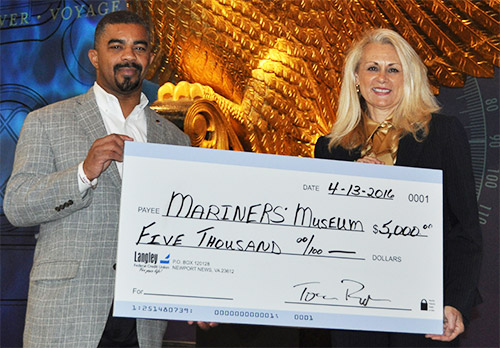 Langley donated $5,000 to The Mariners' Museum for support of the Passport to Discovery Education Program. The Program will provide free admission to the Museum for 555 students of Hampton Roads who would otherwise not be afforded the opportunity for a guided, hands-on, learning experience. For more information visit marinersmuseum.org.
Photo: Langley AVP Corporate Relations poses with Mariners Museum Director of Corporate & Foundation Partnerships Kimberly DuBois
Peninsula Fine Arts Center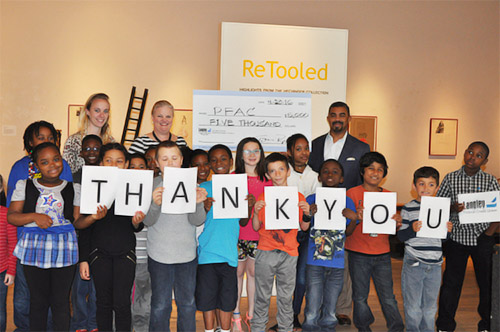 Langley presented $5,000 to the Peninsula Fine Arts Center for support of their many programs designed for children and families to interact in a fun, educational environment that encourages participation with art materials and concepts.
Photo: A visiting Newport News classroom thanks Langley for their donation to the museum.